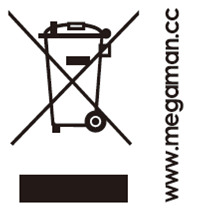 [EN] Correct Disposal of This Product
This marking indicates that this product should not be disposed with other household wastes throughout the EU. To prevent possible harm to the environment or human health from uncontrolled waste disposal, recycle it responsibly to promote the sustainable reuse of material resources. To return your used device, please use the return and collection systems or contract the retailer where the product was purchased. They can take this product for environmental safe recycling.
[ES] Eliminación correcta de este producto
Esta marca indica que este producto no debe desecharse con otros residuos domésticos en toda la UE. Para evitar posibles daños al medio ambiente o a la salud humana debido a la eliminación incontrolada de residuos, recíclelos de forma responsable para promover la reutilización sostenible de los recursos materiales. Para devolver su dispositivo usado, utilice los sistemas de devolución y recogida o contrate al minorista donde compró el producto. Pueden llevar este producto para un reciclaje seguro para el medio ambiente.
[DE] Korrekte Entsorgung dieses Produkts
Diese Kennzeichnung weist darauf hin, dass dieses Produkt in der gesamten EU nicht mit anderem Hausmüll entsorgt werden darf. Um mögliche Schäden für die Umwelt oder die menschliche Gesundheit durch unkontrollierte Abfallentsorgung zu verhindern, recyceln Sie diese verantwortungsvoll, um die nachhaltige Wiederverwendung materieller Ressourcen zu fördern. Um Ihr Altgerät zurückzugeben, nutzen Sie bitte die Rückgabe- und Sammelsysteme oder wenden Sie sich an den Händler, bei dem Sie das Produkt gekauft haben. Sie können dieses Produkt einer umweltfreundlichen Wiederverwertung zuführen.
[IT] Corretto smaltimento di questo prodotto
Questo marchio indica che questo prodotto non deve essere smaltito con gli altri rifiuti domestici in tutta l'UE. Per prevenire possibili danni all'ambiente o alla salute umana derivanti dallo smaltimento incontrollato dei rifiuti, riciclarli in modo responsabile per promuovere il riutilizzo sostenibile delle risorse materiali. Per restituire il dispositivo usato, utilizza i sistemi di restituzione e ritiro o contatta il rivenditore presso il quale è stato acquistato il prodotto. Possono portare questo prodotto per un riciclaggio sicuro per l'ambiente.
[FR] Mise au rebut correcte de ce produit
Ce marquage indique que ce produit ne doit pas être jeté avec les autres déchets ménagers dans toute l'UE. Pour éviter d'éventuels dommages à l'environnement ou à la santé humaine dus à une élimination incontrôlée des déchets, recyclez-les de manière responsable afin de promouvoir la réutilisation durable des ressources matérielles. Pour retourner votre appareil usagé, veuillez utiliser les systèmes de retour et de collecte ou contacter le détaillant où le produit a été acheté. Ils peuvent apporter ce produit pour un recyclage sans danger pour l'environnement.
[NL] Correcte verwijdering van dit product
Deze markering geeft aan dat dit product in de hele EU niet samen met ander huishoudelijk afval mag worden weggegooid. Om mogelijke schade aan het milieu of de menselijke gezondheid door ongecontroleerde afvalverwijdering te voorkomen, dient u het op verantwoorde wijze te recyclen om het duurzame hergebruik van materiële hulpbronnen te bevorderen. Om uw gebruikte apparaat terug te sturen, maakt u gebruik van de retour- en ophaalsystemen of neemt u contact op met de winkelier waar u het product heeft gekocht. Zij kunnen dit product meenemen voor milieuveilige recycling.
[CS] Správná likvidace tohoto produktu
Toto označení znamená, že tento výrobek by neměl být likvidován spolu s jiným domovním odpadem v celé EU. Abyste předešli možnému poškození životního prostředí nebo lidského zdraví v důsledku nekontrolované likvidace odpadu, recyklujte jej zodpovědně, abyste podpořili udržitelné opětovné použití materiálových zdrojů. Chcete-li vrátit použité zařízení, použijte systémy vracení a sběru nebo se uzavřete s prodejcem, u kterého byl produkt zakoupen. Mohou vzít tento výrobek k ekologické recyklaci.