The RoHS Directive stands for "The restriction of the use of certain hazardous substances in electrical and electronic equipment". This directive bans the placing on the EU market of new electrical and electronic equipment containing more than agreed levels of lead, cadmium, mercury, hexavalent chromium, polybrominated biphenyl (PBB) and polybrominated diphenyl ether (PBDE) flame retardants starting from 1 July 2006. Manufacturers need to understand the requirements of the RoHS Directive to ensure that their products, and their components, comply.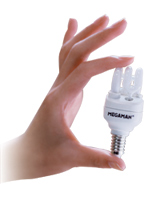 MEGAMAN® started to prepare for RoHS compliance in early 2004. Conforming to the company's philosophy, continuous effort to develop and enhance eco-friendly attributes of the product was set as the company's top priority. All this laid a basis for the company to take the lead in manufacturing and distributing energy-saving lamps in the industry that comply with the RoHS Directive. In April, 2005, MEGAMAN® proudly introduced the world's first energy-saving lamp that complied with the RoHS Directive, the LILIPUT PLUS.
Fully complying with RoHS requirements, MEGAMAN® has adopted lead-free glass tubes and amalgam which does not release mercury vapour at room temperature and contains mercury levels as low as 2mg (while the RoHS requirement is 5mg).
Aiming to create the world's most eco-friendly energy-saving lamps, MEGAMAN® is also working closely with its business partners to ensure that the raw materials and end products meet the outlined requirements and environmental standard. Some of these activities include:
Restricting the use of hazardous materials banned by the EU directive
Requiring suppliers to conform to RoHS guidelines with procurement specification and provide data for verifying their conformance
Conducting conclusive inspections before products are delivered to customers to ensure conformance to RoHS legislations
Conducting seminars and training sessions to increase the knowledge and awareness of employees and suppliers on RoHS requirements
MEGAMAN® contributes towards the betterment of mankind by putting environmental protection as one of its prime objectives. MEGAMAN® actively endeavours to pursue measures that foster a cleaner and greener environment, with its eco-friendly and quality products.
For more details about RoHS and WEEE, please visit http://ec.europa.eu/environment/waste/rohs_eee/index_en.htm