LED Light Engines: TECOH® CFx


HIGH PERFORMANCE TWIST-LOCK LED LIGHT ENGINES
MEGAMAN®'s TECOH® CFx range of high performance twist-lock LED light engines have an integrated driver for general lighting. The TECOH® CFx range is designed in-line with Zhaga. With nominal lumen packages of 1200 and 2000 lumen, MEGAMAN®'s TECOH® CFx light engines are ideal for use in downlights, replacing conventional light sources such as 50W halogen and 2x13W and 2x18W compact fluorescent lamps.


MEGAMAN®'s TECOH® CFx CF0120 versions are the world's first-LED light engines designed in line with Zhaga Book 2 having a luminous flux of 2000 lumen.
UNIQUE DESIGN APPROACH
MEGAMAN®'s TECOH® CFx light enginesdesign incorporates white LED solutions and combine them with a reflector to direct the light through a slightly opaque cover resulting in a lambertian* output. 
FUTURE IN MIND
TECOH® CFx modules are application-ready solutions which can be simply adapted into existing luminaires, easily serviced and upgraded in the future if required. By using the twist-lock solution the existing luminaire can be retained, minimising the environmental impact of replacing the whole fixture.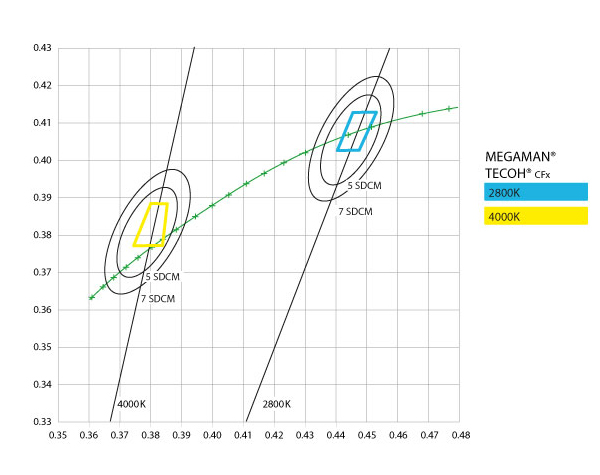 HIGH LIGHT QUALITY
The key to creating an LED lighting scheme that looks good for years to come, is in ensuring that over their lifespan all of the lamps are performing within an acceptable tolerance in terms of colour. With over four years of experience with LED arrays and due to MEGAMAN®'s control of the phosphor/LED blend MEGAMAN® TECOH® CFx products have an excellent colour consistency.
INSTANT START
TECOH® CFx modules reach the declared light output and colour temperature at the time of switching on. Unlike some conventional light sources, TECOH® CFx can be switched on at dimmed level and restart instantaneously. As the CFx module is not sensitive for switching, it can be used with other lighting control technology, such as presence detectors.
DIMMABLE & HIGH EFFICIENCY SOLUTIONS
TECOH® CFx modules are available in two ranges 'Extended life Dimmable' and 'High efficiency' solutions.


TECOH® CFx Dimmable modules allow for linear dimming without colour shift, offering linear dimming from 10 - 100% with a compatible dimming system. Even when dimmed down to 10% light output the colour temperature remains consistent with negligible colour shift and this throughout the extended life of 35.000 hours.


TECOH® CFx High Efficiency modules are designed to maximize the product efficiency with system efficacies as high as 80lm/W.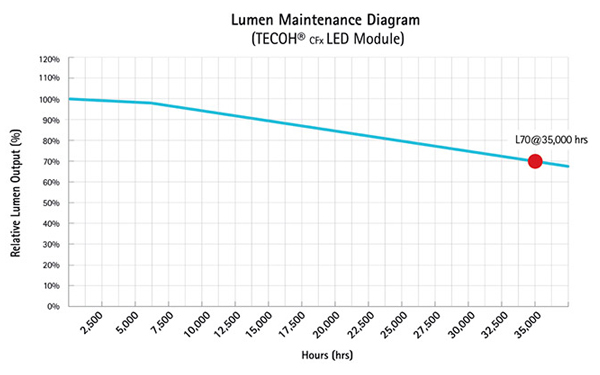 LONG-LASTING
The key to maximising light output and lumen maintenance lies in sound thermal management. When the thermal control is designed in accordance to MEGAMAN®'s specification, the TECOH® CFx modules has a rated life of L70 up to 35,000 hours, meaning at the rated L70 life 70% of the initial lumen output is still available, resulting in excellent performance, good lumen maintenance and long life.
ECOLOGICAL ADVANTAGES
MEGAMAN® understands that eco-friendly solutions with better performance than existing light sources are required and this is the philosophy behind the development of the TECOH® CFx modules. TECOH® CFx modules eliminating hazardous substances such mercury and fixtures with TECOH® CFx modules will save up to 60% of the total consumed power compared to low voltage halogen fixtures and up to 30% compared to CFL fixtures, creating an for environmental LED friendly solutions.