MEGAMAN® Unveils Colour Changing Smart LEDs with INGENIUM® ZB Wireless Technology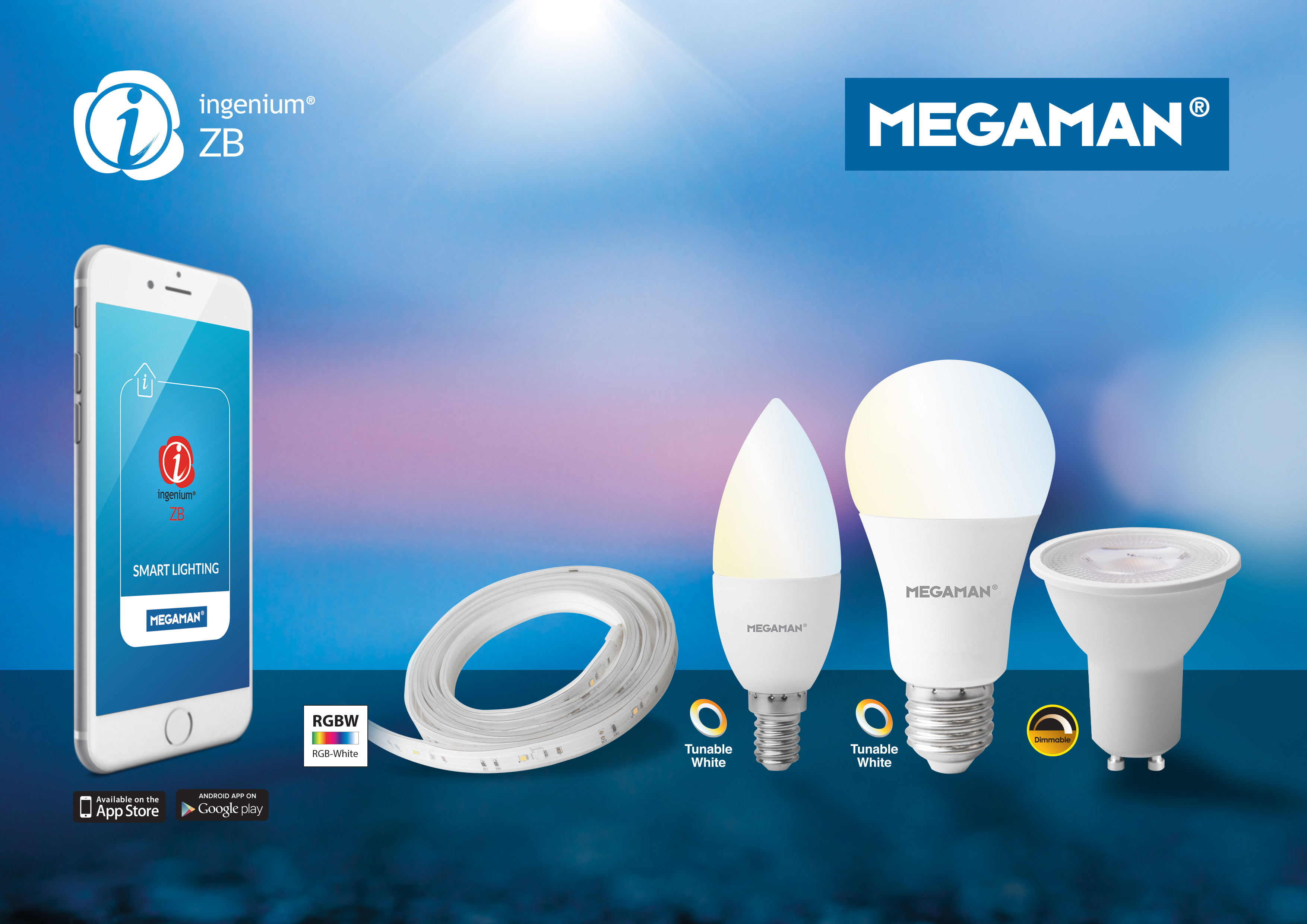 (Hong Kong – 27 October 2019) MEGAMAN® INGENIUM® ZB, equipped with ZigBee® technology, is a scalable smart lighting solution, which allows users to gain wireless control over all INGENIUM® ZB products for high-end applications. To improve people's living with smart lighting, MEGAMAN® has introduced four vibrant additions to the INGENIUM® ZB series, including Tunable LED white candlelight, Tunable LED white classic, LED PAR16 dimmable bulb, and LED RGBW Flexi strip light, all of them could be connected and controlled through the ZB gateway and mobile app.  
ZigBee® is a communications technology widely considered an alternative to Wi-Fi and Bluetooth for some applications. For example, a ZigBee®-enabled light bulb can be controlled by Zigbee®-enabled light switch even if they are from different manufacturers. Designed for high-end applications and larger and scalable installation, INGENIUM® ZB could act as a bridge between general lighting and full smart home solutions controlling many appliances and not only lighting,  
The new Tunable LED white candlelight and Tunable LED white classic allow users to have the ability to control and change a light source's colour temperature output. They can select the desired colour from warm white, cool white to daylight. The adjustable high-quality lighting fixture has up to 20,000 hours of lamp life and has light beam spread at an angle of 180 degree, making it an ideal general lighting solution to create different ambient lighting effects and mood for social occasions or daily living.
MEGAMAN® RGBW Flexi strip light is a new brilliant and versatile form of lighting.  It consists of many individual LED emitters mounted on a narrow and flexible circuit board.  With up to 16 million of colours and an impressive range of white colour temperature from 2200K to 6500K, it projects a wide range of fixed and variable colour and brightness, perfect for decoration and stylish home design purpose. Shipped in a long reel (standard length: 3 meters / maximum length: 6 meters), RGBW Flexi strip light can be cut to length and includes double-sided adhesive for mounting.
Designed to replace the halogen PAR16, the new MEGAMAN® LED PAR16 dimmable bulb shares the same compact profile as its halogen counterparts. Available in multiple beam angle options with superior lighting efficacy, the LED PAR16 series is a best fit to multi-purpose applications, such as accent lighting for display items or ambient lighting for warm and cosy feeling. Its brightness is 470 lumens, about the same as a traditional 40W bulb but with a longer lifespan of up to 20,000 hours. By linking to INGENIUM® ZB gateway, multiple LED PAR16 dimmable bulbs can be connected and controlled via the mobile app.
To work, these new lighting products needs to connect to INGENIUM® ZB Gateway, which acts as a bridge and links the bulb to your smartphone. Now users can control the connected lighting fixtures and set their favourite scenes with their smart devices at fingertips.
The INGEMIUM® ZB app is now available for free download on both the Apple App Store and Google Play Store.
About MEGAMAN®
MEGAMAN® is a global trusted brand in energy-efficient lighting. Originated in Germany, we are passionate about original design and high-quality, and have solely focused on energy-efficient lighting products since our inception in 1994. MEGAMAN®'s product and service offerings have evolved over time to meet the every-changing demands of the dynamic market. We thrive to be the leading lighting solution provider. We have made customer experience the central element to everything that we do as well as put future lighting technology within reach of our customers today.
MEGAMAN® has led the lighting industry with groundbreaking innovations that serve professional and consumer markets. Our products are distributed throughout the world mainly in Europe, Middle East and Asia.
For press information, please contact:
Linda Cheung
Neonlite Distribution Limited – MEGAMAN®
Tel: + 852 2305 1722     Fax: +852 2758 5957
Email: lindacheung@neonlite.com.hk