MEGAMAN® INGENIUM® BLU Gen2 and Brand-new INGENIUM® ZB Launched at Hong Kong Lighting Fair 2015 (Autumn Edition)
(Hong Kong – 27 Oct 2015) MEGAMAN®, an innovative developer and manufacturer of LED lighting, debuts INGENIUM® BLU Gen2 and a brand new member of the INGENIUM® Smart Lighting family - INGENIUM® ZB - at the Hong Kong Lighting Fair 2015 (Autumn Edition).
INGENIUM® BLU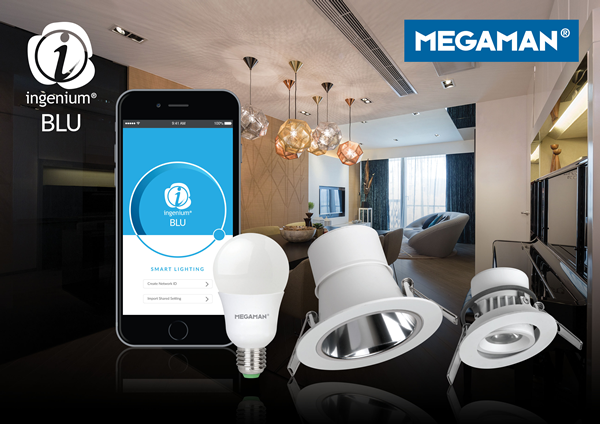 Making its debut at the Lighting Fair, MEGAMAN® INGENIUM® BLU Gen2 is packed with new features and enhancements. Giving users simultaneous control of up to 8 times more lamps or devices (64) than with its first generation products, the upgraded INGENIUM® BLU system also boasts improved dimming performance with a range of 100%-5%.
INGENIUM® BLU Gen2 system uses a mesh network topology – a key network architecture that extends the coverage area several times wider than before and allows for the control of substantially more lamps – all while using less of your smart device's battery power.
By using smart devices and the new and improved INGENIUM® BLU app, users can control INGENIUM® BLU lamps directly, and without any need for additional wiring. Alternatively, if users don't have an INGENIUM® BLU lamp, they can install the brand new INGENIUM® BLU dimming module giving them smart control of all MEGAMAN® LED products. Providing easy integration and outstanding value, the INGENIUM® BLU range has also been extended to include the SIENA LED Downlight, as well as the much-loved LED Classic and PAR16 GU10 providing a variety of options for all applications.
INGENIUM® ZB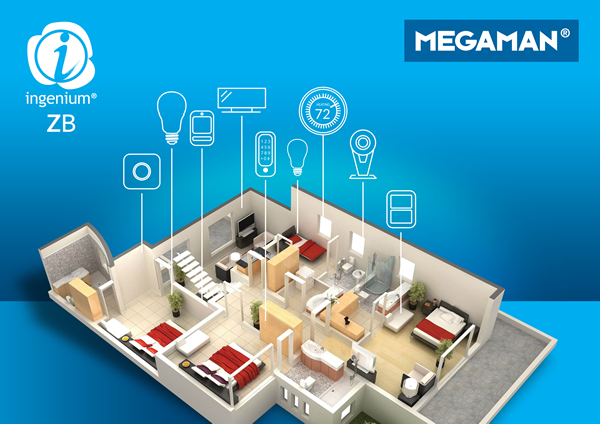 Also launched at this year's fair INGENIUM® ZB - a brand new range based on a common standard that acts as a bridge between general lighting and full smart home solutions.
Using the ZigBee® protocol, INGENIUM® ZB allows users to gain wireless control over all of their INGENIUM® ZB lighting products. Compatible with many other ZigBee® smart home solutions, INGENIUM® ZB works with its very own gateway, or popular third-party ZigBee® compatible super-gateways to add quality lighting to modern smart home solutions.
Another big advantage of INGENIUM® ZB is that it is scalable, providing a wider wireless coverage utilizing mesh network technology to allow control of over 200 lamps simultaneously. Similar to INGENIUM® BLU, INGENIUM® ZB lamps are controlled through users' smart devices via corresponding apps. In addition, you can add the INGENIUM® ZB dimming module into your network to control all standard MEGAMAN® LED products. Ideal for the professional and high-end consumer market, INGENIUM® ZB is available in LED Classic lamps and INGENIUM® ZB luminaires.
Leading the industry into a world of smart and interoperable lighting solutions, MEGAMAN® has a solution for anyone looking to add smart control to their residential, commercial, retail and industrial spaces. Visit our booth at the Hong Kong Lighting Fair to find out more.
About MEGAMAN®
MEGAMAN® is a global brand in high-performance, energy-efficient lighting and an innovative leader in LED luminaires and bulbs, with technology targeting the best eco-lighting solutions. MEGAMAN® products are widely distributed throughout the world including Europe, Asia Pacific, Middle East, North America and Latin America. By setting environmental management as one of the company's highest priorities, MEGAMAN® is focusing on eco-friendly environmental processes from initial design, to manufacturing, research and development, and the disposal and recycling of its products.
For more information about MEGAMAN®, please visit the website at www.megaman.cc.
For further information, please contact:
Wendy Lam
Neonlite Electronic & Lighting (HK) Ltd. – MEGAMAN®
Tel: +852 2378 0074   &mnsp; Fax: +852 2758 5957
Email: wendylam@neonlite.com.hk