MEGAMAN® Launches Decorative LED Filament Lamps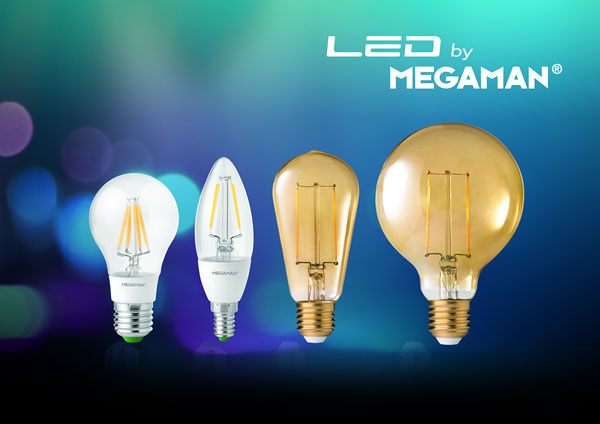 (Hong Kong – 10 Jun 2015) MEGAMAN® is proud to launch the LED Filament Lamp series which not only resembles the classic beauty of traditional incandescent lamps in terms of appearance and output, but also applies all the energy saving benefits of LEDs to decorative lighting. The LED Filament Lamp series emits an evenly distributed golden light, creating a mellow ambience in an interior environment. The effect echoes the elegance of incandescent lamps while providing dramatic energy savings.
This series is available in a 2700K option with a fully transparent glass cover and in 2200K option with a tinted glass cover for extra warmth. Coupled with a higher luminous efficacy up to 98lm/W, the oval-shaped 2700K lamp delivers a brighter and slightly cooler illumination. The 2200K option, in oval or sphere shapes, has a semi-transparent glass cover, which emits a warmer and dimmer light to create a more dramatic ambience.
Both options have a 100%-10% linear dimming version. Heat generation is also much lower than incandescent lamps. With an average rated life of 15,000 hours, the LED Filament Lamps are also very durable, and are easy to install. The accessories for both options include an external housing in gold, silver and brass.
Ideal for hospitality and residential units with a vintage design, the MEGAMAN® LED Filament Lamp series offers nostalgic lighting aesthetics that interior designers and consumers can display with pride, while also benefiting the environment.
About MEGAMAN®
MEGAMAN® is a global trusted brand in energy-efficient lighting. Originated in Germany, we are passionate about original design and high-quality, and have solely focused on energy-efficient lighting products since our inception in 1994. MEGAMAN®'s product and service offerings have evolved over time to meet the every-changing demands of the dynamic market. We thrive to be the leading lighting solution provider. We have made customer experience the central element to everything that we do as well as put future lighting technology within reach of our customers today.

MEGAMAN® has led the lighting industry with groundbreaking innovations that serve professional and consumer markets. Our products are distributed throughout the world mainly in Europe, Middle East and Asia.
For press information, please contact:
Linda Cheung
Neonlite Distribution Limited – MEGAMAN®
Tel: + 852 2305 1722       Fax: +852 2758 5957
Email: lindacheung@neonlite.com.hk