MEGAMAN® LuxMeter: Desirable iPhone Apps for Your Lighting Solution
(Hong Kong – 14 Oct 2011) MEGAMAN®, an innovative and eco-friendly market leader in energy-efficient lighting industry, is pleased to announce the release of MEGAMAN® LuxMeter, a free iPhone app provides a tool for you to measure the lightings in your room and gain the proper tips of energy saving lamps to improve the mood and environment.
The proper lighting can bring significant contribution of desirable atmosphere. MEGAMAN® LuxMeter would be a professional adviser to analyse your room lighting and provide practical and applicable lighting solutions to meet your needs and ease pressing environmental challenges.
Features:
LuxMeter
Snapping pictures of any environments, such as home, office, school, restaurant, or art gallery, the app allows you to measures the brightness of your place right away. Simply initiate the LuxMeter function and tap the 'OK' button, and you can assess the illuminance of where you are, with follow-up green lighting tips and recommendations to achieve the ideal lighting solution.
Lamp Finder
Lamp Finder helps you quickly find an eco-replacement bulb for your fixture. You simply select the shape of your existing lamp and take a picture of it, a suggestion list of corresponding CFL and LED lamp alternatives with effective energy savings will then be shown. You can also share the photos in funny frames with your friends on Facebook.
Energy Savings Cal
Saving energy reduces your carbon footprint as well as your bank balance. Simply entering the quantity of lamps, hours of operation and electricity cost, you can see how much you could save from your wallet and the environment by switching from conventional blubs to CFL and LED lamps. You will be impressed by the cost savings that can be made and the amount of CO2that can be reduced with a simple change. With this calculator, saving energy is as easy as plugging in a new light bulb.
MEGAMAN® Concept Store
It helps you finding the nearest MEGAMAN® concept store around you. By activating your GPS, you can find your way to green lighting solutions at any time, anywhere.
To experience MEGAMAN® LuxMeter, please download the app for free in the iTunes App store.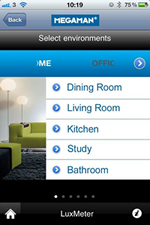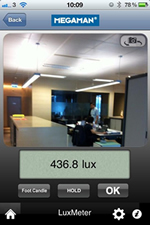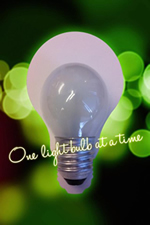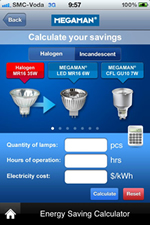 About MEGAMAN®
MEGAMAN® is a global brand in high-performance, energy-efficient lighting and an innovative leader in LED and CFL lamp design, with technology targeting the best eco-lighting solutions. MEGAMAN® products are widely distributed throughout the world, including Europe, Asia-Pacific, Middle East, Africa and South America, covering more than 90 countries and territories. By setting environmental management as one of the company's highest priorities, MEGAMAN® is focusing on eco-friendly environmental processes from initial design, to manufacturing, research and development, and the disposal and recycling of its products.
For more information about MEGAMAN®, please visit the website at
www.megaman.cc.
For more press information, please contact:
Blanca Ho
Neonlite Electronic & Lighting (HK) Ltd. – MEGAMAN®
Tel: (852) 2378 0074 Fax: (852) 2758 5957
Email: blanca@neonlite.com.hk