MEGAMAN® - Leading the World in Energy Efficient Lighting
Established in 1994, MEGAMAN® is a global brand in high-performance, energy-efficient lighting and an innovative leader in Light Emitting Diode (LED) and Compact Fluorescent Lamp (CFL) design, with technology targeting the best eco-lighting solutions. MEGAMAN® products are widely distributed throughout the world covering more than 90 countries throughout Europe, Asia Pacific, the Middle East, Africa and South America. By setting environmental management as one of the company's highest priorities, MEGAMAN® focuses on eco-friendly environmental processes from initial design to manufacturing, research and development, and the disposal and recycling of its products.
Our Philosophy – "Life in Light!"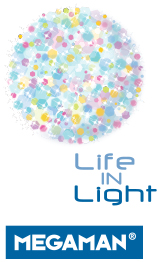 A glowing sphere of light is symbolic of life. Light's power is in its ability to provide a dynamic focus in an ever-changing universe. Light is alive, radiating its colourful character and sparkling vibrancy to the world.
It is no secret that artificial light enhances life, work and play. It permits work to be carried out efficiently and comfortably in any office. It enables easy, safe travel underground and during the darkest hours of the night. It provides quality time for music concerts, theatre performances and evening football games. Artificial light allows time to be effectively used, any hour of the day, as needed.
MEGAMAN® is recognised around the world as a provider of energy-saving lighting solutions that make a positive difference to the quality of life. With its innovative LED and compact fluorescent lamps in a variety of sizes, shapes, colour temperatures and features, MEGAMAN® offers a way of life that substantially benefits consumers as well as the environment. With an emphasis on reducing the environmental impact, from product development to disposal and recycling, MEGAMAN® leads the way with its innovations and new lighting technology, striving for a better tomorrow for all.
MEGAMAN® - The light that lights up the world in a sustainable and socially responsible way.