MEGAMAN® ENSIO Outdoor Integrated LED Floodlight - Ideal Replacement for Metal Halide Counterparts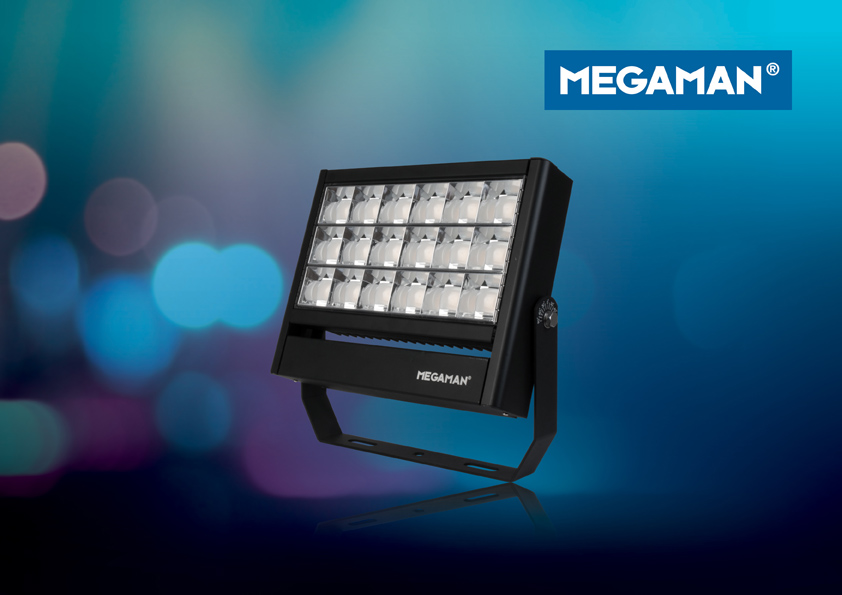 (Hong Kong – 11 July 2017) MEGAMAN® launched ENSIO Outdoor Integrated LED Floodlight as true replacement for 250W and 400W metal halide lamp floodlights. The new series provides superb brightness and gives instant light with a homogeneous illumination and perfect for outdoor floodlight applications such as signage, billboards, gated areas and façade.
MEGAMAN® has designed its luminaires with high reliability and a long lifetime.  Available in 90W and 180W options with colour temperature of 3000K and 4000K, the ENSIO integrated LED floodlight delivers superb performance up to 122lm/W and has a substantial 50,000 hours lifetime. Heat management is a deciding factor in the development of innovative LEDs, and the outstanding design of ENSIO series enables it to meet this challenge. It can operate in ambient temperatures ranging from -30°C to +50°C. The virtually maintenance free floodlight provides both cost and manpower savings.
Strong and durable, the pre-heated and powder coated aluminum housing allows for protection against corrosion. Coupled with water resistance at IP66 rating and vandal resistance at IK08 rating, the ENSIO series is ideal for any harsh outdoor environments.
The ENSIO series offers symmetric and asymmetric options for uniform lighting, its louvre optics design delivers highly focused light beams, low glare and enhanced photometric control. With fully adjustable 180 degree joints, you can project the light at different angles.
A compact, lightweight design makes the ENSIO LED floodlight easy to install and retrofit to any existing column for reduced structural costs.  The integrated driver and built-in LED also facilitate simple installation and maintenance.


About MEGAMAN®
MEGAMAN® is a global brand in high-performance, energy-efficient lighting and an innovative leader in LED and CFL lamp design, with technology targeting the best eco-lighting solutions. MEGAMAN® products are widely distributed throughout the world, including Europe, Asia Pacific, Middle East, Africa and South America, covering more than 90 countries and territories. By setting environmental management as one of the company's highest priorities, MEGAMAN® is focusing on eco-friendly environmental processes from initial design, to manufacturing, research and development, and the disposal and recycling of its products.
For more information about MEGAMAN®, please visit the website at
For further information, please contact:
Wendy Lam
Neonlite Electronic & Lighting (HK) Ltd. – MEGAMAN®
Tel: + 852 2378 0074         Fax: +852 2758 5957
Email: wendylam@neonlite.com.hk